Manufacturing
We are using the most advanced production facilities in the country which includes full cycle of production of electronics, as well as processing metal and non-metal materials.
Automatic SMD assembly
Our factory is equipped with professional machinery of SMD mounting such well known companies as JUKI,SMTECH,ROMMEL,MARANTZ, that allows us to reach goals set by our customers.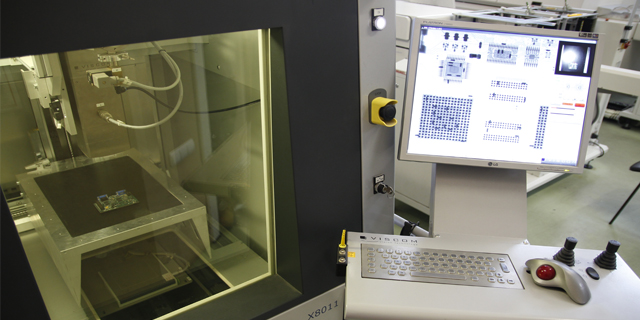 X-ray inspection of printed circuit boards
We use a high-performance X-ray system for the inspection of printed circuit boards - VISCOM H801. High quality of inspection provided with metal micro focus X-ray tube with the focus of less than 1 micron and the increases of the object in 1250 times.
Optical control
The implementation of an optical printed circuit board control using modern automatic line optical inspection Viscom S3088AV.
Internet of Things (IoT)
Internet of Things is filled with smart things: in the constructions and home automation, urban economy, transport and logistics, medicine, energy and ecology, industries.

Our specialization:
Our experience
TECHWONKS is a team of design engineers with more than 20-years experience in industrial electronics, embedded and computer systems.
Team

25+

years in

Industrial Electronics
Consumer Electronics
Security
Embedded systems
Special computer systems
Devices

200+

devices

Video controllers, display and indicator controllers
Peripheral and specialized controllers, game boards
Converters and Interfaces hubs
Emulators of equipment and peripherals
Secondary power supplies
Sound amplifier
Electronic keys and encryption devices
Random Number Generators
Processors

20+

CPU/CPLS/FPGA

AMD
AMCC
Altera
Atmel
Cirrus Logic
Freescale
Intel
Lattice
Microchip
Nordic
Semiconductor
NXP
Renesas
STMicroelectronics
Texas Instrument
Wiznet
Computers

15+

platforms

System on Module
NXP i.MX
(Yocto)
Barebone
Shuttle
(Linux/Windows Embedded)
Compact
eBox
(Linux/Windows Embedded)
Credit card-sized
Raspberry PI
(Linux)
Odroid
(Linux/Android)
Orange PI
(Linux)
Interfaces

30+

implementations

Video
CGA, VGA, DVi / HDMI
Wireless
Bluetooth, NFC (RFID), Wi-Fi
External
1-wire, CAN, Ethernet, RS-232, RS-485, USB
Internal
I2C, I2S, PCI, PCIe
RAM
SRAM, DRAM EDO, SDRAM SDR, SDRAM DDR2
Contact us
If you have an idea for a new device or a project that we can realize for you
please contact us by filling out the contact form below or call.